If you've seen my older blog posts, you will know two things: 1) I don't mind looking a bit crap in photos (I prefer the term "natural", hahaha), and 2) I'm not thin. These things still hold true! But number one now more so than number two.
Sports bra/bikini photos below the jump...
January 6, 2014 - about 5kg less than my biggest
April 25, 2014 - work in progress
One of several reasons I haven't blogged about sewing projects this year is that my latest project has been to improve the clothes hanger instead of the clothes, so to speak. And with the glacial pace at which I complete sewing projects, I would change sizes before I finished anything.
I've never felt bad about my body. It's basically just a vessel for my brain. I truly don't care what other people think – they can worry about their own bodies and I'll worry about mine. There were/are lots of good reasons for me to get healthier, but I can't say that any one reason jumpstarted me.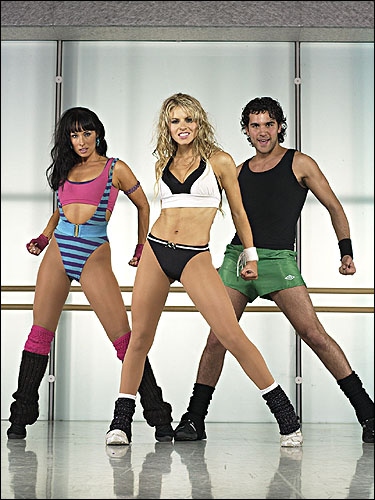 Yeah, this is totally realistic for my next goal
Today, my hairdresser was telling me how she has taken up Zumba for weight loss "but someone like you wouldn't need to do that". Ha, if only she knew! For those of you who are curious, or simply nosy (and that's okay too!), here's what happened:
I used MyFitnessPal. There are other calorie-tracking apps and websites, but I like this one. It's free, and has lots of useful functions. It also has welcoming and helpful web forums.
I had two months of online guidance from Mike Vacanti. He set me up with some good guidelines around eating and exercise, and he is very supportive of people still leading their normal lives! You don't have to commit to hardcore exercise, or eliminate food groups, or avoid nights out.
I ate regular food. Not "clean", necessarily, but the majority of my foods were/are meat, vegetables, grains, dairy, fats… there is nothing wrong with a few processed things, but they just make it harder to keep within calorie limits. Thankfully, I ate okay before and I just needed to rein in the portions.
I increased my protein intake. It keeps me feeling fuller, and helps me to keep muscle while losing fat. Vegies also keep me feeling full, because the bulk and fibre take a while to digest. Carbs aren't the devil, but they do tend to leave me feeling hungry sooner.
I lifted weights. I go to a poky little 24 hour gym. They don't even have barbells. So I do the best I can with dumbbells, machines, bodyweight, and dog-walking.
I was consistent. Yes, occasionally I overate. But each week my overall calorie intake was less than my output.
Just as importantly, here's what I didn't do:
Stress out about exercise. When you're really big, some things are physically too uncomfortable. Also, I hate running. I lift weights because I want to try and retain some muscle (rather than being smaller but flabby). But if I hadn't done weights, or even cardio, I still would have lost weight.
Remove any foods from my diet. I literally eat the same stuff as before. But the quantities and proportions have changed.
"Cheat". Firstly, if you don't cut out any foods, there is no such thing as cheating. But when I did eat too much, I owned it, logged the calories, and moved on. No beating myself up.
Have an unrealistic goal (I picked a target weight in the middle of my healthy BMI range). I just wanted to see incremental improvement.
I'm now about 5kg from my original goal, but I want to be stronger and leaner. It isn't important whether I'm thin. By aiming for a physique, I shouldn't change size again so rapidly - I'll just be firmer. This might make my sewing efforts a bit more rewarding…
I took these after work tonight.
No kidding, it was about 4°C
I don't have abs yet, but if you squint you can see where they might be one day
Hopefully that's explained my absence and lack of sewing. Fire away with any questions!